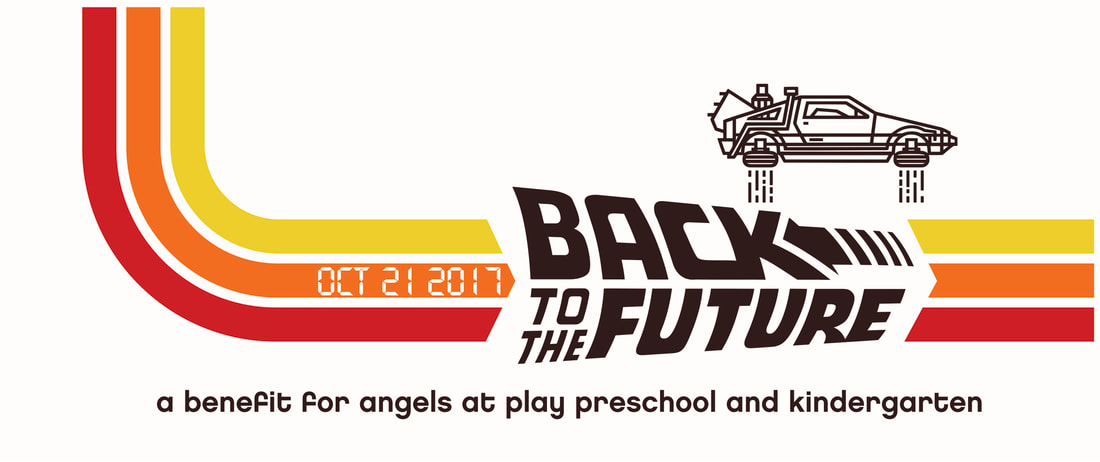 Back to the Future: A Benefit for Angels at Play
Please join us for a fun evening to support Angels at Play Preschool & Kindergarten and a chance to reconnect with past and current families of AAP!
SATURDAY, OCTOBER 21, 2017
5:00pm - 9:00pm
POMAIKA'I BALLROOM - AT DOLE CANNERY (IWILEI)
735 Iwilei Road, Honolulu, HI 96817
** This event is for guests age 21+ only.
COST:
$5,000 Platinum Sponsor reserved table (8 seats)
$3,000 Gold Sponsor reserved table (8 seats)
$1,750 Silver Sponsor reserved table (8 seats)
$150 individual ticket price
5:00 p.m. Cocktails
6:00 p.m. Program Begins & Dinner
Dinner Entertainment by LEHUA KALIMA and SHAWN PIMENTAL !!
Professional Hypnotist, GREG GABAYLO !!
Silent Auction
Angel Giving Tree
If you wish to purchase a Sponsor table, please print out the form at this link, complete, and return by August 21, 2017:
https://drive.google.com/file/d/0Bxlu0XlmuZ4-SUlzOUdmbHRMS0NOeTdBVy1maDNOU2VyVE0w/view?usp=sharing
OR to purchase individual tickets:
1. Complete the information form below to RSVP and to provide us with your current contact information.
2. Submit a payment.
(a.) Send a check by October 11, 2017 (extended deadline) to: Angels at Play, 2062 S. King Street, Honolulu, HI 96826.
Please make checks payable to: Angels at Play, and note in the memo number of individual tickets, or sponsor table type.
OR
(b.) Pay online by October 11, 2017 (extended deadline) by following this link to Eventbrite's secure payment site:
https://www.eventbrite.com/e/back-to-the-future-a-benefit-for-angels-at-play-tickets-33720315371
Even if you are unable to attend the dinner, please complete the form below to update your information for future events.
Please email
events@angelsatplaypreschool.com
if you have any dietary restrictions or other questions.
Thank you so much for your continued support! We look forward to seeing you soon!
​
FILL OUT FORM​
---
If you are AAP alumni parents and would like your children to be included in a slideshow to be shown at the event, please complete the following:
1) Download
this sign
, open it in Adobe Acrobat/Reader (not browser), and edit the text to reflect your child's name and year of graduation from AAP.
2) Take a current picture of your child holding the sign.
3) Dig up a preschool photo of your child.
4) Combine the 2 photos side by side into one file (if possible) and submit to
events@angelsatplaypreschool.com
by October 12, 2017.
---
THANK YOU FOR YOUR SUPPORT!
Thank you to our event sponsors:
(As of 10/11/17)

PLATINUM
​Howard Y. & Gayle A. Ikeda

GOLD
Friends of Angels at Play
Nina M. Teruya, MD
Tsukazaki & Associates, LLC
Ushijima Architects, Inc.

SILVER
Franklin Family
Friends of Angels at Play
Friends of Angels at Play
Friends of Angels at Play
Hara/Mau Family
Honey Bears 2017
Jason & Amy Isa
Jillian Jakahi
John T. Wu & Christina N. Nguyen
Kai Kraft's Grandma
Kalani & Ashlee Yamamoto
Koala Bears 2018
Marc & Shari Okumura
Omura & Inouye DDS, Inc.
​Shan Hiraoka LLC
Shihara/Nakahara Family
Sun Bears 2018, Ching/Hino & Chong Families
Todd & Lori Yamanaka
Wade Takenishi DDS, LLC
​
Thank you to the following businesses and individuals for their generous silent auction donations:
​(As of 10/11/17)
Alan Wong/Alan Wong's Honolulu
Aloha Trikke
American Carpet One Floor & Home
Aqua-Aston Hospitality
Aunty's Ramen
Banan
Bead It
Big Island Candies
Bishop Museum
Blue Pacific Management
Bravo Restaurant
​Carousel Candyland
Cinnamon Girl
Dave & Busters
David S. Ishii, Ishii Golf
Disneyland
DK Steakhouse/Sansei Seafood Restaurant
Doraku Sushi
Duke's Waikiki
Egan's Fit Body Bootcamp
​Emi Shibuya
Enson Inoue/Destiny Forever LLC
​Evan Mau & Kasumi Hara
Fighting Eel, Inc.
Flour & Barley
Four Seasons Resort Oahu at Ko Olina
Germaine's Luau, Inc.
Global Elite Travel Solutions
Hampton Inn & Suites Kapolei
Hawaii Prince Golf Club
Hawaii Water Sports Center
Hawaiian Chip Company
Heather Anders
HI Blend Health Bar & Cafe
Hilton Waikiki Beach
Honolulu Zoo Society
Ian & Corey Arakaki
Ice Palace
​Island Air
iTrampoline Hawaii
​Jamie Asato
Jan Awakuni
​Japanese BBQ Yoshi
Jason & Amy Isa​
Jimbo Restaurant
​Kahala Mall
​​Karai Crab & The Willows
Kato Chiropractic Care, LLC

Kenneth Nakagawa​
Kualoa Ranch Hawaii
Leahi Swim School, Inc.
Lularoe Luana's Boutique
Mama Woo's BBQ
McDonald's Restaurants of Hawaii, Inc.
McKinley Car Wash
Mid Pacific Country Club
Mignardise LLC
​Mike Bruggemann, Da Hawaiian Poke Company
Minato Japanese Restaurant
Moana Surfrider, A Westin Resort & Spa
Navy Marine Golf
Oahu Party Bus
Olomana Golf Links
​Omura & Inouye DDS, Inc.
P.F. Chang's Waikiki
Pancakes & Waffles
Pediatric Dental Group
Peter & Dawn Tsukazaki
Pure Barre - Honolulu
Pure Joy Day Spa
Reid & Traci Takamoto
Roots & Relics
Roy Sakuma Productions, Inc.
Royal Hawaiian Center
Ruth's Chris Steakhouse & Macaroni Grill
Sea Life Park Hawaii
Sheraton Princess Kaiulani Hotel
Sheraton Waikiki Resort
Shiatsu Therapist of HI - Jonathan Sugai LMT
Stacey Shigemura
Starcomm Wireless Inc.
Sweet Creams
TD Food Group, Inc.
​Teruya's Andagi
T.J. Kua, Aloha Golf Center
The Compleat Kitchen @ Kahala Mall
The Royal Hawaiian, A Luxury Collection Resort
This Week Publications
​​Tsutsui & Uehara CPAs LLC
UH Manoa Athletics
Waikiki Aquariam
Waikiki Beach Marriott Resort & Spa
Wendy Mizuno
Wet'n'Wild Hawaii
Wyland Worldwide, LLC
​Zippy's Restaurants